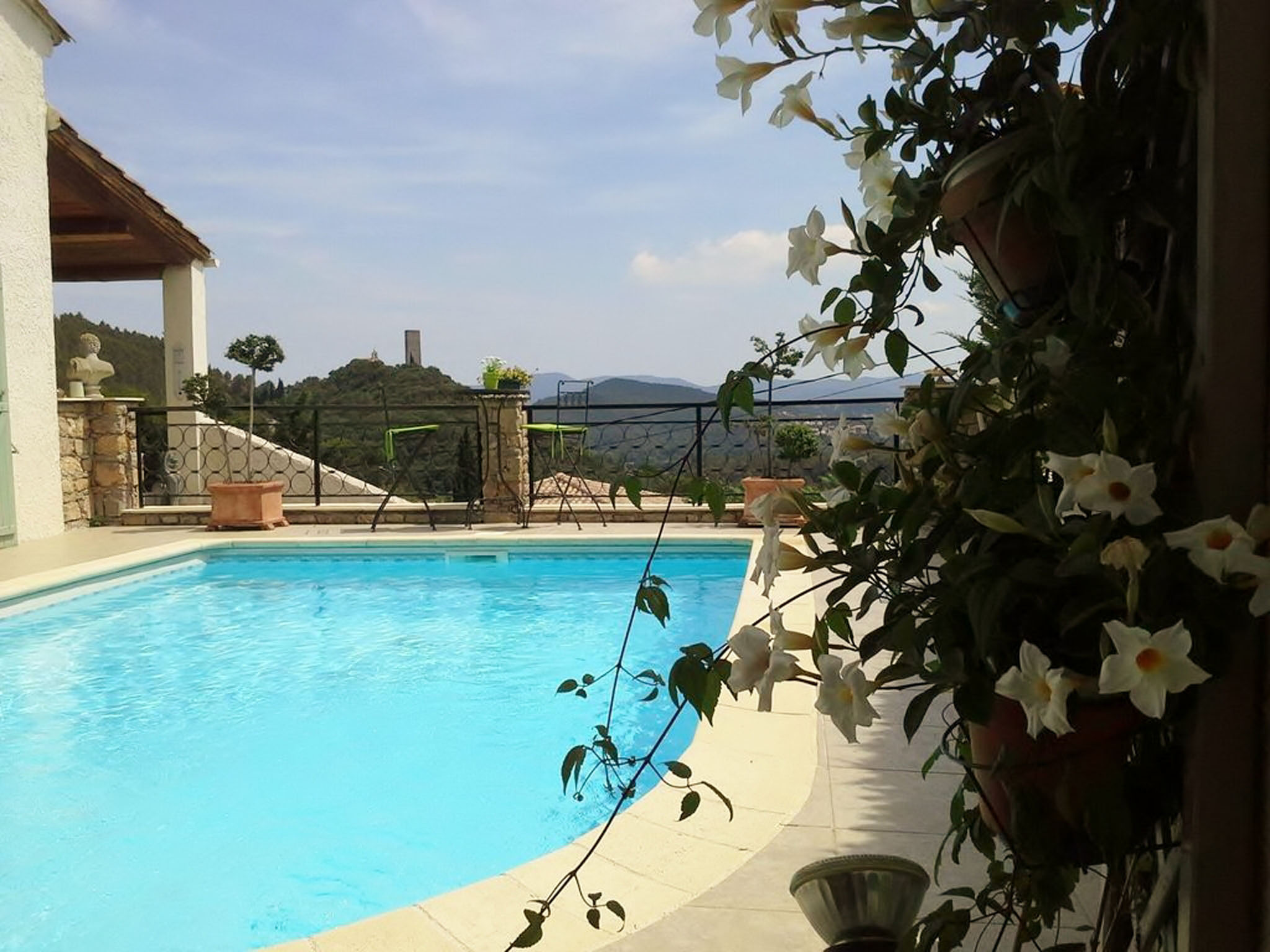 Guests have access to the pool which is adjacent to the left side of the villa
There are loungers by the pool for you to bathe in the sun and soak up the Provence ambiance, encapsulated by the magnificent views towards the Tour de Taradel and Les Massif des Maures mountains.
At the far end of the pool there is a secluded area, reminiscent of a Turkish sofra - a small internal room found in houses on the Bosphurus, where you can relax in the shade after taking a nice cooling swim.
From this area there is a doorway that leads to a peaceful upper garden terrace seating area, where guests can sit at leisure and enjoy a glass (or two) of the fine local Taradeau Rosé wine.
Villa La Romarine is a Provencal Villa, full of charm and character.
It is set in a beautiful location high in the hills above the quiet village of Taradeau in the Var region of Provence, famous for its Rosé wine.
There are stunning views, both day and night, across the valley and vineyards of the immediate area.
From the villa, you can see across to the Tour de Taradel (a 12th century look-out tower) and the St. Martin Roman chapel. Along with the vestiges of the Roman Fort Oppidum, these are the remains of the Taradel village built on a rock outcrop in the 12th century but destroyed by invasion in the middle ages.
Further in the distance, in the delightful town of nearby Vidauban, is the lovely 18th century chapel of Sainte Brigitte, built on an extinct volcano, which is stunningly lit up at night.
Beyond Vidauban there are panoramic views of Les Massif des Maures mountains.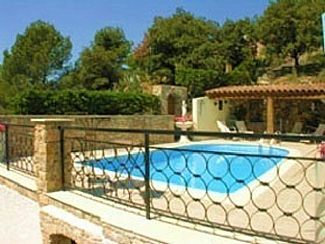 Customer's Reviews
"Made it home to foggy Aberdeen. Hopefully we'll wake up from this nightmare and find ourselves looking out of the bedroom window of a beautiful apartment on a hillside in Taradeau' Thanks again for a wonderful stay."
Carole and Les - Scotland
"We had the most wonderful Easter in your great apartment. Your hospitality and kindness were excellent. We talk about it very often."
Anders, Helle and Thomas - Denmark

"Melvin and Sheila are super hosts. Very welcoming and friendly and their home is really lovely. If you want somewhere quiet, away from the touristy bustle, then their apartment is ideal. It's well located with lots to see in the surrounding countryside or within an hours drive. Definitely worth visiting. In ten years of renting accommodation in France this is one of the best and we will strongly consider returning."

Mark and Lorraine - Dublin, Ireland